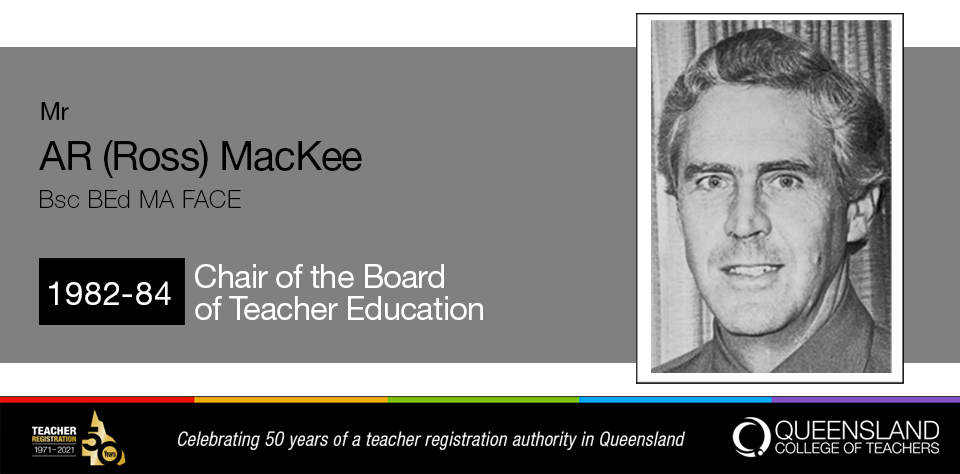 Ross MacKee
Mr MacKee was Principal of the Townsville Teachers College from its establishment in 1969 and continued as Director when the College became a College of Advanced Education in 1972. Following the amalgamation of the College with the James Cook University of North Queensland in 1982, Mr MacKee served as the Director of the Institute of Advanced Education within the university until his appointment to the Board of Advanced Education in 1984.
During the early 1970s, Mr MacKee was instrumental in the development of the Australian College of Educators in Townsville. He was made a Fellow of the College during this time.
Mr MacKee was a foundation member of the Board of Teacher Education, having been appointed in June 1971.
During his term on the Board, he served on a number of Board committees, including chairing the Appeals Committee from 1979 to 1982.
He was a member of the Bassett Review Committee and following the presentation of that committee's report in 1978, he was a member of a special Board committee to consider guidelines for the future development of teacher education in Queensland as recommended in the Bassett Report.
Mr MacKee was appointed Chair of the Board in 1982 following the resignation of Emeritus Professor Betty Watts. In 1984 he resigned this position with the BTE to take up a role with the Board of Advanced Education.
In his new role at the Board of Advanced Education, Mr MacKee remained significantly involved with the amalgamations of colleges of advanced education with universities following the move for a unified system by the then Federal Minister of Education, John Dawkins, in 1988. As an example, he chaired the working party formed to implement the Griffith University-Mt Gravatt CAE amalgamation in 1989 (Hogan, 2016).
Reference
Hogan, T. (2016). Coming of age: Griffith University in the Unified National System. Melbourne University Press