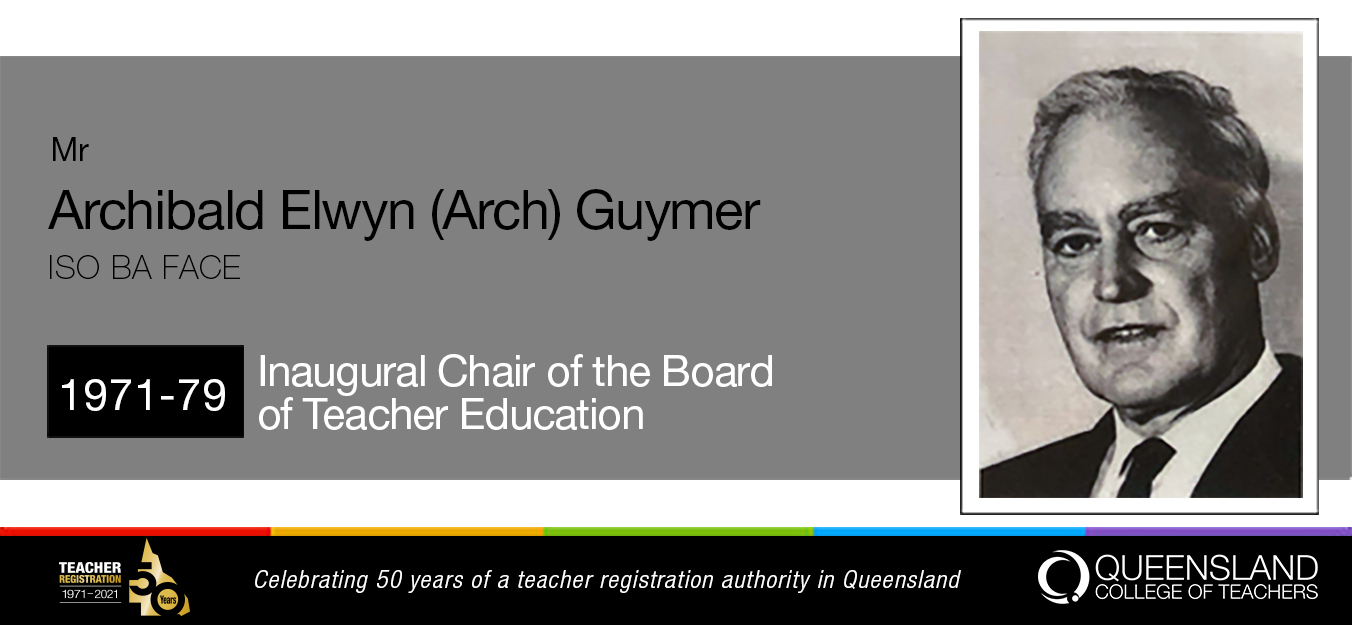 Arch Guymer
Archibald Elwyn Guymer (1911–1983) was the Foundation Chair of the Board of Teacher Education. Arch was born in Warwick and was educated in Queensland public schools. He undertook a teaching qualification with the support of a scholarship at the Teachers Training College in 1928 at age 17 and was first appointed as a teacher scholar to Bundaberg East State School in 1930, with subsequent appointments at Ascot State School and Innisfail Rural School. Arch completed a BA at The University of Queensland in 1938.
With the outbreak of WWII, Arch began military service in 1940 and served in the RAAF from 1941, for much of this time as a squadron leader. Arch flew several different aircraft during the war, 22 in all, including Hurricanes and Spitfires. He served in England and Burma and as Squadron Leader commanding 28th Squadron was mentioned in despatches. He was discharged on 11 December 1945.
Following the war he returned to teaching in state primary schools, being promoted to roles of Inspector, Regional Director, and Director of Primary Education before being appointed to the role of Director-General of Education in 1971.
Arch was an accomplished artist, and a collection of murals painted by him at Ascot State School in the 1930s was restored in 1994 as part of the school's 75th Jubilee held in1995.
Arch retired on 20 February 1976 just before his 65th birthday and received an Imperial Service Order in the 1976 New Year's Honours Lists.
Arch Guymer served as Chair of the BTE from 1971–1979. While the first years of his term coincided with his role as Director-General Education, he continued as Chair following his retirement from that role in 1976 to complete a second term and to see through some of the key initiatives in the developing work of the BTE. "Under his guidance, the Board established a role unique in Australia of supporting teaching as a profession by combining the registration of teachers with the continuing review of teacher education" (BTE Annual Report, 1979, p. 1).
Swan (2014) cited Arch's achievements during his role as DG as providing one year of pre-school for 4 and 5 year olds; provision of regional resource centres for teachers; introducing teachers' aides; locating a QTU representative within the Department to assist in resolving matters early; changing the role of schools inspectors from evaluative to provision of developmental guidance for teachers and principals; and the development of the Bardon Professional Development Centre.
In a tribute to Arch Guymer prepared at the time of his retirement as Director General (All about Arch, 1976) he was described as "competent, courteous, co-operative, charismatic and creative…it is safe to say that Queensland schools are better places because of Archibald Elwyn Guymer" (p. 10).
References
All about Arch (1976). Prepared to mark the retirement of A. E. Guymer, ISO, BA, FACE, Director General of Education, Queensland.
Board of Teacher Education. (1979). Annual Report. Author.
Swan, G. J. (2014). The Rise and Demise of the Inspector of Schools in Queensland. Submitted in partial fulfilment of the requirements for the degree of Master of Arts (Research), Queensland University of Technology.