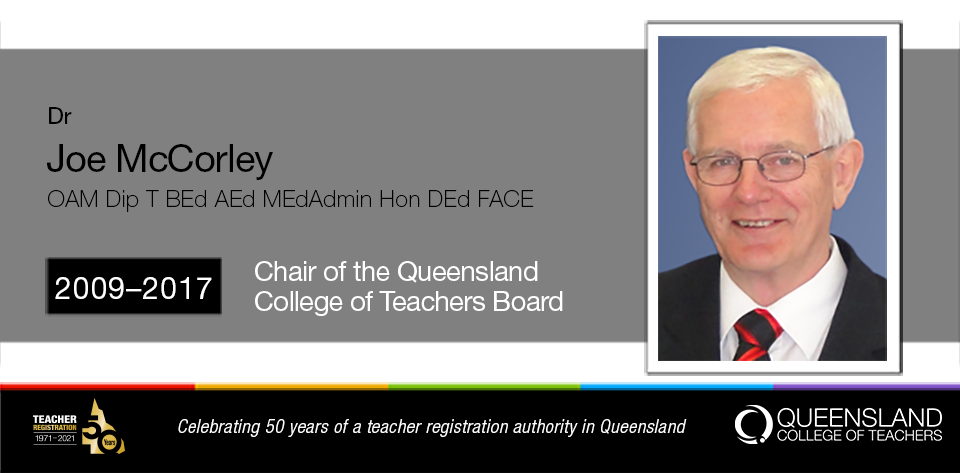 Dr Joe McCorley OAM
Dr Joe McCorley OAM was appointed Chair of the QCT Board in August 2009 following the resignation of Professor John Dewar. Dr McCorley had worked in both State and Catholic education systems in Queensland for almost 50 years of teaching and administration at the time.
Dr McCorley received the Order of Australia Medal for services to education in 1995 and was awarded an honorary doctorate from Central Queensland University in 2008. He recognised the value of a teacher registration system, especially as he qualified as a teacher after only one year of teacher training.
Dr McCorley began his teaching career as a 17-year-old in 1961, becoming principal within just three years. He subsequently taught right across the State, serving at Taroom and Roma State Schools before being appointed to a one-teacher school in Yuleba in the Maranoa region just outside Miles. He then worked as a teaching principal at Chillagoe, a school with a primarily Indigenous population.
As a principal with teaching staff at schools in Innisfail and Mt Isa, he learned something particularly important about developing young teachers. In the latter town most of his 40 staff were beginning teachers and their tenure at the school was often relatively short.
Dr McCorley was then appointed to Tewantin State School where 20 buses would bring 1,000 school children into Tewantin daily. He subsequently became a state school inspector in Maryborough, Mt Isa and finally Rockhampton. He saw this role as important in providing support to teachers and principals, and in supporting and mentoring their professional development.
After leading schools across the state and working as a State School District Inspector, Dr McCorley joined Catholic Education in the Diocese of Rockhampton as a Supervisor of Catholic Schools. Six years later, in 1989, he was appointed the first lay Director of Catholic Education for the same diocese.
Looking for a new challenge, Dr McCorley became the Executive Director of the Queensland Catholic Education Commission (QCEC) in 2001, serving until 2006.
The Dr Joe McCorley OAM award for Outstanding Contribution to School Community was introduced in 2018 in recognition of teachers whose service and contribution is at the heart of the school community. To Dr McCorley, service to the education and broader communities is a strong hallmark of his life.