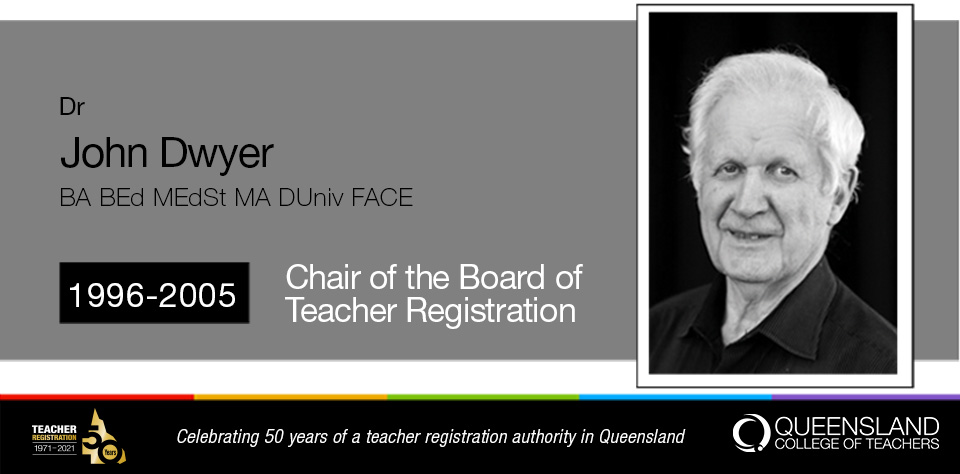 Dr L. J. (John) Dwyer
As someone who had been teaching in Queensland for over 40 years, John Dwyer had very clear agendas when he began as Chair of the Board of Teacher Registration in April 1997.
John Dwyer's career in Queensland education began in 1954 at Ironside State School. He went on to work in one teacher schools such as Ebenezer, Glenmorgan, Jandowae East, and Jimna. These early years emphasised the importance of the teacher and the school to small rural towns - John recalled the involvement of the teacher in all community functions, and in some cases the running of these community activities.
Following these school appointments, John became Principal at Biggenden and then at Cherbourg in 1970. The Van Leer Foundation had given money to fund a pilot project for Palm Island and Cherbourg, with a goal of improving the language program for Aboriginal kids. As Principal, John was heavily involved in the project, noting the new focus of attending to language difference and not language deficit.
In 1973, he was made 'Principal unattached', which enabled him to implement on a wider scale what was being learned about educating Indigenous children at Cherbourg. From 1974 to 1982 John worked in a newly created role, Inspector of Schools, Education of Aboriginal and Islander Children.
Dr Dwyer continued in roles of Deputy Director (Primary Education), two periods as Director, followed by Chief Inspector and finally Executive Director of Review and Evaluation. In this latter role, he reported directly to the Director-General and the Minister.
Dr Dwyer completed a Bachelor of Arts in 1966 and a Bachelor of Education in 1973. By the decade's end he had also completed a Master of Education Studies in Queensland, and a Master of Arts (In Education) with Distinction while studying abroad at the University of London on an Imperial Relations Trust Fellowship. Dr Dwyer served as an Adjunct Professor in the Faculty of Education at Queensland University of Technology (QUT) and in 1998 was awarded an Honorary Doctorate from that institution.
Dr Dwyer took early retirement in 1993 and became involved in Vocational Education, becoming Manager at the Institute for Workplace Training and Development. He also became an Adjunct Professor at QUT.
From 1997 to 2005, John served as the Chair of the Board of Teacher Registration (BTR), the precursor to the Queensland College of Teachers. He had served on the BTE and BTR Boards and had been a member of the Professional Education Committee of the BTR. On taking on the role, he commented on the Wood Royal Commission in New South Wales and noted the importance of tighter regulatory roles for teacher registration (The Registered Teacher, p. 1). He also emphasised the importance of high standards for teachers.
Additionally he noted the impact of information technology as a key change for which teachers needed to be prepared. Key outcomes of his term as Chair included the development of what would later become five-yearly renewal of registration and the growing sophistication of dealing with improper conduct by teachers.
The Queensland College of Teachers TeachX Awards feature the John Dwyer Excellent Leadership in Teaching and Learning Award, a tribute to John's career long pursuit of excellence in education.
Now in his 80s, Dr John Dwyer continues to work as a consultant at Velg Training (formerly the Vocational Education Learning Group).
Reference
Board of Teacher Registration. (1997). 'High standards and new technology BTR priorities-new Chair'. The Registered Teacher, 13,1–2.