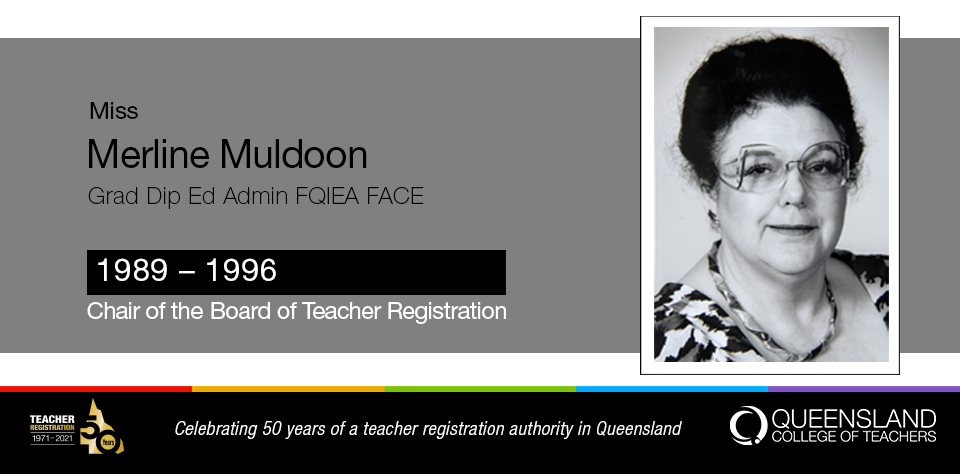 Merline Muldoon
Merline Muldoon was "flabbergasted but delighted" when invited to chair the newly formed Board of Registration in 1989 (Kimber, 1990, p. 1). She was particularly delighted that she was a practising teacher, and at the time Principal of the Royal Children's Hospital Special School.
Merline's appointment as Chair of the teacher regulation authority in Queensland came after a lifetime of working to advocate for the teaching profession in Queensland.
In 1953 Merline Muldoon graduated from Kelvin Grove Teachers' College and moved to Mackay Central State School, teaching a Grade 1 class of over 40 students.
Other early appointments included state schools at Farleigh, West Hill State School and Cribb Island.
In 1962 Merline Muldoon was selected from teachers across the state to teach at the recently opened Cloncurry School of the Air in Charters Towers.
In 1966 she returned to Brisbane, serving as Principal of Windsor Infants State school from 1966 to 1971.
She continued as a Principal at West End Infants School from 1972 to 1980. Her work at the school would become the basis of her thesis that completed her Graduate Diploma in Education Administration from Mt Gravatt College of Advanced Education, now part of Griffith University. The thesis title was titled 'A School That Cares'.
From 1981 to 1984 she was the Principal of Wellers Hill State School and then became Principal of the Royal Children's Hospital Special School in 1985.
Merline Muldoon had been an active member of the Queensland Teachers Union (since 1954) and became a member of the State Council. As a QTU Executive member she took part in the Industrial Commission hearing on the dispute over the Emergency Adult Teacher Training Scheme on 23 May 1968. The scheme, which had been set up in response to a teacher shortage, was subsequently withdrawn. It would have placed teachers in schools after eight weeks of training.
The dispute brought into sharp focus the need for teaching to be recognised as a profession and that the professionals in it should have career opportunities.
As a result, the Queensland teachers' unions advocated for the registration of teachers in the state and Merline Muldoon was a member of the QTU delegation which had Teacher Registration Policy adopted by the Australian Teachers' Federation.
The Queensland Board of Teacher Education came into being in 1971 and from 1975 registration was compulsory in this state.
It was therefore particularly significant that Merline Muldoon, who served as Chair of the Board of Teacher Registration (BTR) from 1989 to 1996, oversaw the introduction of the 4-year qualification for teacher registration in Queensland, something she saw as a major achievement of the BTR (BTR, 1997).
During her period as Chair, policies were developed to make use of the mutual recognition principle for teachers from other states, territories and New Zealand and become registered in Queensland.
The Board's work also included consulting with universities on education courses and investigating teachers who had conducted themselves unprofessionally.
For most of her tenure as Chair of the BTR she continued to work as Principal at the Royal Children's Hospital Special School, retiring in 1993.
In 2019 the Queensland College of Teachers named its new TeachX Award for Innovation in Teaching after Merline Muldoon and she presented the inaugural award at the Awards ceremony.
Merline Muldoon died on 23 April 2021. She left a significant legacy for teachers in Queensland.
References
Board of Teacher Registration. (1997). A job to believe in - Merline Muldoon. The Registered Teacher, 13.
Kimber, K. (1990). Meet the Chairman. The Registered Teacher, 1, p. 1.